Trainers Discuss Euro Dominance of BC Turf
With defending champion Magician likely to be among Irish trainer Aidan O'Brien's contingent for the 2014 World Championships, Europe appears to be in a good position to continue its dominance in the Breeders' Cup Turf (gr. IT).
It's still early, but Magician won't be alone as foreign raiders once again take aim at the race's $3 million bounty Nov. 1 at Santa Anita Park. Others expected to come from across the pond include Telescope for four-time Breeders' Cup Turf winner Sir Michael Stoute, as well as Flintshire, trained by Andre Fabre, whose stock rose mightily Oct. 5 with his runner-up finish in the Qatar Prix de l'Arc de Triomphe (Fr-I).

Breeder's Cup seems to have acknowledged the foreign influence in the Turf, assigning eight of its 12 "Win & You're In" challenge series starting berths to races outside the U.S.

Beginning in 1999, overseas runners have accounted for 12 of 16 Turf winners (including High Chaparral in the 2003 dead-heat with Johar  ), with only Better Talk Now (2004), English Channel   (2007), and Little Mike (2012) able to stem the tide for America.

It was not always so. North American horses, including Canada-based Chief Bearhart, won nine of the first 15 runnings of the race.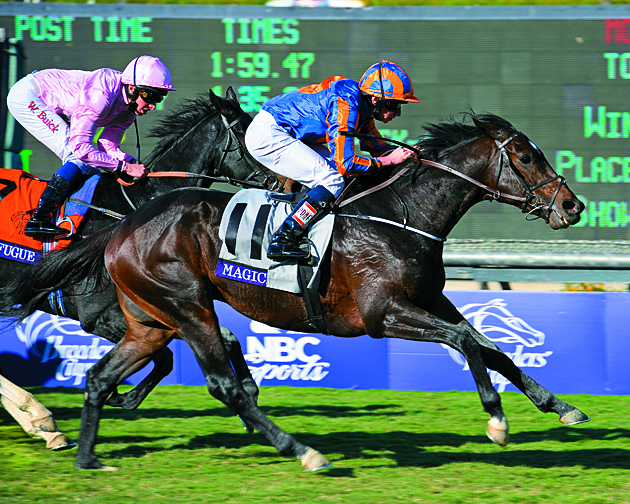 Whatever the reason for the turnaround, it's not something that is likely to change soon, say a trio of Hall of Fame trainers from Southern California—Ron McAnally, Richard Mandella, and Neil Drysdale—all of whom have won the race in the past.

Mandella, who saddled Johar as part of his fantastic four-win day at Santa Anita and also won the race in 1993 with Kotashaan, believes "there are times when they're going to be better and times when we're going to be better.

"But in Europe, the major focus is on grass racing," he added. "You've got the sheikhs, Coolmore, and many others, and they can play the game at the highest level. It's hard to go up against that."

He noted that European training yards also have superior grounds for grass runners that are not available here. Finally, American racing, with its emphasis on dirt, isn't as equipped to compete with the sort of talent Europe can bring.

"Now, a good turf horse can pop up at any time," Mandella said. "But over here, our racing secretaries don't card races at 1 1/2 miles on turf very much. We don't concentrate on those types of races so we don't have many of those types of horses."

McAnally, whose BC Turf victory came in 1995 with Northern Spur, notes that over the years, European trainers have gotten smarter about American turf racing.

"They don't train any differently than they used to," he said. "But they'll pick out the horses they think will do well over a hard, fast track."

Still, McAnally believes the Europeans have a harder time winning in Southern California than in other recent Breeders' Cup locations such as Arlington Park (now Arlington International Race Course), Belmont Park, and Churchill Downs. In those places, European horses are more likely to get the sort of ground they are accustomed to.

Mandella agreed with that to an extent, but suggests that a hard course "is not that big an obstacle for them" since they are somewhat used to it. "It (differences in turf courses) would be a much bigger obstacle for us going over there," Mandella said.

Drysdale, who won the 1989 Breeders' Cup Turf with Prized, said that "it's hard to generalize because every race is different." But he believes European trainers used to think of the Breeders' Cup Turf as a "left-over thing" if, for instance, the Arc de Triomphe didn't work out.

"(The Turf) was an afterthought. But it's not an afterthought anymore," Drysdale said.

For example, Drysdale noted Telescope's summer placings in the King George VI And Queen Elizabeth Stakes and the Juddmonte International (both Eng-I) would have made the multiple group II winner an ideal contender in the Arc. Instead, Stoute has been pointing him to the BC Turf.

A trainer in such circumstances with a horse that relishes firm ground would be better off taking his chances in America rather than facing a 20-horse field at Longchamp under uncertain conditions, Drysdale explains.

"The (Breeders' Cup) purse money makes it more appealing," he said. "When you come here, you know what kind of ground you're going to get and you can bring a horse that favors a firm course."
More News
With the scratch of star-crossed Maximum Security, a field of six is set to go in the $1 million Pennsylvania Derby (G1) at Parx Racing on Saturday.

The $1 million Pennsylvania Derby for 3-year-olds, led by Preakness Stakes winner War of Will, and the $1 million Cotillion Stakes for 3-year-old fillies, led by the undefeated Guarana headline the "Breeders' Cup Challenge Series – Presented by America's Best Racing" broadcast this Saturday, Sept. 21 live on NBC at 5 p.m. ET from Parx Racing in Bensalem, Pa.

Saturday's $1 million Cotillion Stakes (G1) at Parx Racing – a Win and You're In race for the Longines Breeders' Cup Distaff - will pit some of the best three-year-old fillies in training against each other to clear up the scrambled divisional picture.